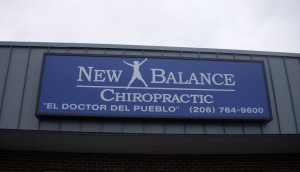 The other day I decided to venture out and visit New Balance Chiropractic which is conveniently located in the West Seattle neighborhood near Roxbury! Upon my arrival to this nicely established practice, I received a warm greeting and within a few short moments had the opportunity to visit with one of the Chiropractors here, Dr. Swanson, to learn a bit more about this growing practice.
Dr. Hill opened the clinic in 2001 and Dr. Swanson joined him about a year ago. They primarily work in family care and take care of clients with L & I cases. Throughout the course of the treatment, clients are educated and given a self care plan. Since a more natural approach is taken here, the Doctors work with their hands, include hydrotherapy and offer recommendations for supplements such as Omega 3's, which as we all know are beneficial to us all!
As a massage therapist here, you will primarily be providing treatment work and helping clients with L & I cases. If you have taken Spanish before, or happen to be Spanish speaking you are already one step ahead because 80% of the clientele is Hispanic… if you aren't, then this may be an opportunity for you to learn some Spanish and enhance your communication skills.
They are currently looking for a PT or FT massage therapist. If you live in the area and are interested in consistent income, convenient location and a pleasant work environment with a non-stop opportunity to learn, I would like to invite you to check it out!


You may apply directly through
Find Touch
or you can send your resume to:
chrisdc@mindspring.com
I hope you are having a wonderful holiday season,