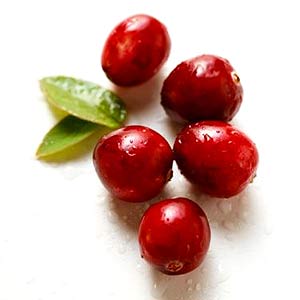 With Thanksgiving less than a week away, many of us are making mental lists of all our blessings and things we have to be grateful for. For several years now, my list has included, "I am thankful that I am a grown-up, can eat what I want, have access to fresh cranberries, and will NEVER have to eat that stuff that goes
SHLOK!
when it slides out of the can EVER again" Oh, the very thought of it makes me shudder. When I was a child, I rated canned cranberry relish right above aspic served on a lettuce leaf with a dollop of Miracle Whip (in other words, extremely low on the list of desirable holiday foods).
Being a massage therapist, I of course lean towards healthier foods: things that are more often fresh and less likely to go SHLOK! when served. However, like most massage therapists, I spend a lot of time in sessions and not near a computer or a shelf full of cookbooks. So when I don't have time to dig out my Williams-Sonoma Thanksgiving cookbook, I usually access a neat little application called Epicurious from my iPhone. This year, I found a delicious-sounding recipe for cranberry relish that calls for fresh and dried cranberries and ruby port, and another whose secret ingredient is dried mustard. Epicurious allows you to flip through a list of recipes, save recipes as favorites, or put a recipe's ingredients into a shopping list. Try Epicurious, especially if you think you're a confirmed cranberry relish hater. Trust me, a hot bubbling poppoppop is way more comforting than SHLOK!
Happy Thanksgiving All!