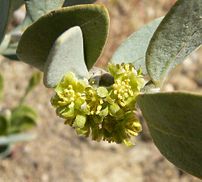 Over the years I've used various massage oils, creams and lotions. Everyone seems to have his or her favorite, and it's rarely possible to convince a "lotion person" to switch to oil or vice versa. That's cool. Different strokes and all that (pun intended). But for me, I never seemed to be able to find just the right combination. Oils gave me a good glide (although not always enough grip), but they're messy and sticky. I hated the way my oil bottles ended up with a sticky film that was almost impossible to get rid of. And it can be difficult to deal with oil-stained sheets and the resulting rancid odors. Lotions tend to absorb too quickly. I found one cream that had a great glide, but it contained ingredients that made it less than pure. So what to do?
About five years ago, I discovered jojoba oil, and I'll never use anything else. It has fantastic glide and grip, better than any other lubricant I've used. It works especially well for deep tissue and myofascial release—you just have to use a little and it provides great control. It doesn't go rancid, it doesn't stain the sheets, no more sticky residue on my bottles!.
What is Jojoba Oil?
Did you know that jojoba oil isn't really an oil? It's actually a wax that becomes liquid at room temperature. Trivia time: Jojoba was given its botanical name, Simmondsia chinensis, by H. F. Link, who "discovered" the jojoba plant (a small desert shrub) near Baja California in 1822. Link named the plant after a fellow botanist, T.W. Simmonds. As with the "discovery" of America, although Link might have been the first westerner to find jojoba, Native Americans and Mexicans had been using it for hundreds of years. Father Junipero Serra, who founded 21 missions in California in the 18th century, documented jojoba's use as a skin and hair conditioner, for healing bruises and burns, as a treatment for sunburn, and even as an appetite suppressant.
Okay. History lesson over. If you're into these kinds of details though, you might have fun doing a little research on your own. It's pretty cool to see how jojoba began to be used in cosmetics and skin care products. Hint: it happened when sperm whales were declared an endangered species in the early 1970's. Jojoba oil's chemical properties are almost identical to sperm whale oil, which, interestingly, is also a liquid wax.
Jojoba: The Swiss Army Knife of Oils
Jojoba is truly amazing stuff. If I hadn't read the studies and experienced the benefits of jojoba on my clients and myself, I'd think it sounded too good to be true.
In dermatological tests, it was proven that Jojoba oil increases the skin's suppleness by 45%, and the effect lasted for more than eight hours.
Studies at Michigan University, the University of Michigan, and the University of Port Elizabeth supported the conclusion that five of the most common bacteria, including staphylococcus aureus and pseudomonas aeruginosus, as well as the fungus candida albicans, were not capable of growing in jojoba oil and that jojoba oil destroys staphylococcus and pseudomonas within 1 hour and 15 minutes.
Jojoba has anti-inflammatory properties due to its myristic acid content.
Jojoba's chemical similarity to sebum, our natural skin oil, means it's easily absorbed and rarely causes allergic reactions. If you have clients who are allergic or sensitive to other oils or lubricants, you will probably find that they won't have any problem with jojoba.
It's rich in Vitamin E, a natural preservative, giving it a super-long shelf life. I've had my current gallon jug for close to a year, and it's not showing any signs of rancidity.
Jojoba dissolves sebum, making it an excellent hair conditioner and scalp treatment for both dry and oily hair. It's proven to be an excellent treatment for dandruff, and has potential for preventing hair loss. It can also be used as a facial cleanser.
Skin conditions like eczema, psoriasis and acne have been helped with jojoba. Again, because its composition is so similar to sebum, it works for either dry or oily skin.
You can use jojoba oil instead of shaving cream and soften your skin while you shave.
Get rid of all those fancy wrinkle creams and use jojoba oil instead.
It's a Great Massage Oil!
Jojoba isn't just great for all skin types; it also feels great. It never leaves a greasy, oily feel, even if you use a little bit too much. So your clients will leave feeling silky smooth and fresh. And if you're tired of oil-stained sheets, jojoba will make you really happy. I found this comment on a bodywork forum: "I'm so confident about the washability that I sometimes wear a nice linen dress to work because it's comfy, and it always comes clean." That's a pretty strong endorsement!
Jojoba is also one of the best carrier oils for aromatherapy.
It's Cheaper Than You Might Think
A lot of people think jojoba's expensive. But when you look at the fact that you'll use just a fraction of the amount you use with other oils and it doesn't go rancid, it becomes very affordable. A gallon of jojoba oil from The Jojoba Company (formerly Boston Jojoba Company) costs $55 and will last a lot longer than other oils, lotions or creams. You can get organic jojoba oil from The Jojoba Company for $69 a gallon, but even their regular jojoba oil is pesticide-free.
If you try jojoba, let me know what you think. And if you're already a jojoba fan or have discovered some new uses for it, I'd love to hear about that too!