Many therapists could benefit from the use of a massage office. Your own spot saves your back from wrangling tables at house calls. Your own spot also offers a great learning experience – how to develop skills to negotiate and keep an office, handle bills and make more income.
At some point in every massage therapist's career the question comes up: Would you rather work for yourself or someone else? Would you rather handle the details to enjoy the freedom? Does it suit your style and your abilities? If it does not, are you interested in developing those skills?
Being able to answer those questions thoughtfully is just the start. I've pulled together some tips from a long career; some of it spent working for others and some for me.
Find the Time: Lots of therapists I worked with at spas and medical offices talked about getting their own place, but most never took their first steps. You have to plot out your time. Will you spend every Monday and Tuesday looking at places? What about collecting equipment and décor on the second-hand market? Will you be spending full retail for what you need?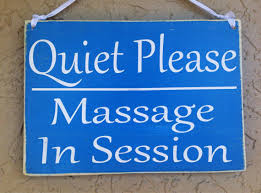 Study up: There are lots of online resources, most free, where therapists share their stories and advice. Tap in. I also looked at consumer columns on such things as commercial leases, tax advantages of an office and how to use your noggin to determine if potential officemates and/or landlords will be a good fit.
Work up you own agreement. If you find a place to share or rent full-time, you will get your best deal from your own hand. Sure, lots of landlords have their own agreements, but those agreements often turn back on themselves and nullify the very things you want or need. If you can use a one-page, simple agreement of your own design, you are better off.
Know your noise: Massage needs peace and quiet. The most common complaint I have heard from people is that they didn't know the neighbors would be noisy. Or their landlord rented to a noisy neighbor just to fill space. You need some quiet neighbors, like accountants, other wellness offices, etc. Restaurants, machine shops and daycare are going to drive you crazy. Get it in writing that you won't be subject to excessive noise incompatible with your business.
Have one-year's rent in the bank before you leap. If your office is going to cost $500 a month or $5,000, you need to know you can pay for it while you figure out your business. Don't rely on your hands to make paying clients magically appear.
Have more than one income stream available: If you run ads on Google, have a good website and your cousin the chiropractor sends you clients, you might make it. Most people forget to figure in the cost of marketing and keeping good referral sources in place.
It is also a frequent and fatal mistake to assume that if you leave your employer, your clients will follow. Most won't. And your employer has paid money to get those clients in the door and the clients may just like it there just fine. How do you handle that? Trust me, it will take about 5 minutes for your employer to find out you are telling clients about your new venture. Ethics applies in business and in massage. Read up on how to leave gracefully. You don't want to be one of those therapists who have to go to work for someone else a year later because you venture failed or created a lawsuit.