Massage therapists like to think we help people deal with stress, injuries and fatigue. But how do we know we help?
Massage is, after all one-on-one. We are stars or idiots one hour at a time, and we often don't take much credit for our clients' successes or failures. Is a massage therapist a facilitator or a game-changer? Do we really know?
I'm reminded of the times I thought I had no clue what I was doing, only to have the client hop off the table and give me a compliment and a big tip.
But I also remember that once on vacation – after one particularly hideous massage from someone who thought they were fantastic – that I said thank you and left a tip anyway. I made a mental note of the therapist's name in case I ever happened to go to this resort again so I could get someone else.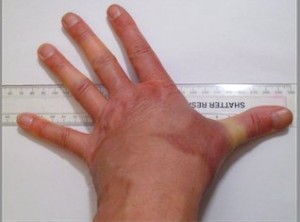 How we measure ourselves and our effectiveness in massage therapy is something of an emerging issue. In a practice that is more art than science, can we really measure ourselves?
People have often received treatments for medical conditions that have no proof or promise – but the treatments are tried in the belief that they may relieve suffering or repair the underlying condition. That is the art of medicine.
Can we also preserve the art of massage while some therapists attempt to move into the medical – and the reimbursed – field?
A recent post by long-time and very respected massage instructor Noel Norwick of Los Angeles asked the question on Facebook.
His question on medicalmassage@groups.facebook.com group referred to a study. It found that soothing talk – reassurance – worked just as well as physical therapy treatment after whiplash. Here's the link: http://www.bodyinmind.org/treating-whiplash
It appears to say that treatment versus soothing talk have the same results. My comment was that it might say much about the quality or delivery of treatment instead of its effectiveness in the right hands.
Would that be the case if reassuring talk were compared to massage? I think not. Hope not. But let us ask this question another way – if we could offer nothing hands-on, would we offer reassuring speech? Isn't that sometimes the de facto treatment for stress disorders – even though many of us would propose that massage would be much better?