Perhaps you have seen the ads in the massage therapist trade publications: What would happen if you could see four clients in an hour?
Folks in the massage biz are not often associated with great math skills. Four clients in a single hour? As a private practice therapist, heck, I figure could make a lot more money. The bottom line is a tough talk for most massage therapists. We work hard, yet few of us make the mythical "six figures." It's the same elusive goal of others in hard-working, hands-on, self-businesses such as hair stylists, estheticians and realtors.
Most of us make our bills OK, but few achieve the income that we feel we deserve based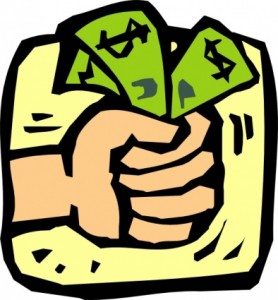 on our combination of effort, hours worked, and costs of training and licensing. The three times the money carrot sure made me look further into the pitch. Aha, this ad is for acupuncture school.
That's enticing. Learn a very similar technique that requires a lot less sweat. More clients, more income, and yes, in most states you get to call yourself a doctor. Hmmmm. Then there is the tuition, the time spent and the apprentice time and licensing tests and costs. Could it work? How many acupuncturists have to take three months off for carpal?
That's way too much math for me. I cut to the chase. I asked the acupuncturist I share space with. He has been in practice for more than 30 years.
My officemate looked at me in horror. After graduation, he had no idea how to book a client, let alone manage a practice. For years he worked as a contractor for other acupuncturists – at about half of the $50 session fee. It didn't seem very fair then, of course now that he knows about office rent, insurance, ads, etc. he has a different perspective.
So he saw about 30 patients a week for others, and tried to see at least 20 people a week in his own practice. That's 50 plus treatments a week, about double what I can do. "I hit the wall," he said. "I burned myself out. It took a long time to be able to come back and feel good about doing treatments again."
Well, fudgesticks.
We talked a bit about burnout and why. I have to admit I really didn't see it at first. He explained that it takes a lot out of an acupuncturist to perform treatments that address specific complaints. "It's the energy," he said. "It's all about the energy."
You know, I totally get that math.