Recently I walked into a raging discussion among massage therapists over discount pricing. To discount or not to discount is a huge bugaboo for massage therapists.
Prices are subjective, of course, and one can only wonder why people ask for a discount from a single massage therapist when they wouldn't dream of asking at a big spa. I came up with a list of concerns about prices:
Overhead: Discounting is tough for all therapists, really, because our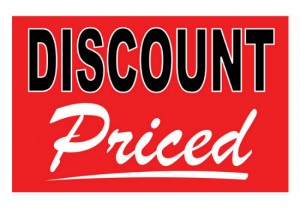 stated prices and what we get paid are quite different. My asking price includes things that support my practice, such as office rent, website, phones, supplies, education and licensing. A friend who does house calls only has the expenses of phone, linens and oil. Another therapist has few expenses as an independent contractor, other than insurance and licensing, but taxes take a much bigger bite out of her paycheck and she rarely makes tips at her chiropractor's office. At the end of the year, we all make radically different bottom lines, and our prices are quite different.
Perception: Most of the huffy comments from my friends on this topic come from the feeling that clients who ask for discounts are insulting them or their skills. People don't haggle over many items, but they do haggle over personal services. My feeling is: do you want to be paid like the maid or the accountant?
Need: We all have clients who come in with limited means and in need of massage. How do you handle these? I have given people discounts for multiple sessions when they clearly have a need and lack resources. However, there are always a few people who ask for discounts and don't have a need. In my experience, they are either thrifty or culturally used to haggling. I don't take offense. If they really want a discount for the sake of a discount, I refer them to one of the $39 chains.
Desire: Another therapist friend had a home-based practice, (sub-rosa, no licensing or insurance) and needed clients, so she offered massages for $25 an hour, cash only. It worked. She did not have to leave her house She is also now very burned out and has no savings.
My friend who is a hair stylist put it this way: when she started her practice, her prices were low. As she built clientele, her prices rose. The clients who stayed valued her services. The others, well, one or two come in every year so she can fix their $8 haircut.